multilayered masks with the highest possible protection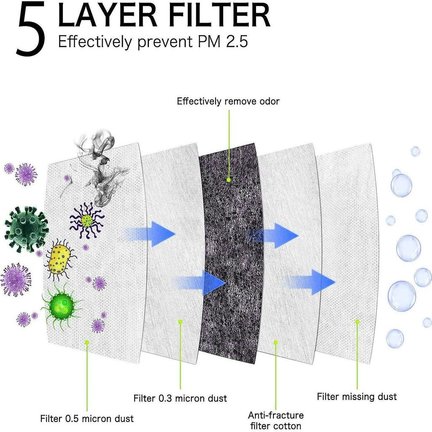 FFP2 Mask
These FFP2 medical masks offer you and your environment the best protection that a mask can offer. Because these FFP2 masks have been extensively and officially tested, you can be confident that the FFP2 mask will do its job well. 
Difference between FFP2 medical and disposable facemasks
The difference between FFP2 medical masks and non-medical disposable masks lies in their function. Whereas a non-medical mask is primarily worn to protect the wearer's environment, an FFP2 mask is worn to protect the wearer from, for example, airborne germs. There are 3 variants of mouth masks, FFP1 / FFP2 / FFP3.   This indicates the degree of filtration. FFP1 has the highest filtration and FFP 3 the lowest. For protection against viruses, an FFP2/KN95 mask is necessary, as it has a small filtration which viruses cannot pass through. If there are people in your immediate vicinity who are potentially infected with COVID19 and they are not wearing a mouth mask (a surgical mask), then the use of an FFP2/KN95 mask is recommended to protect yourself.
How should an FFP2 mask be worn?
When wearing a medical ffp2 mask it is important that you first disinfect your hands with a disinfectant hand gel. Then hold the ffp2 mask in one hand and the rubber bands in the other. Place the FFP2 mask under your chin and pull the rubber bands up to your crown with the other hand. Then you can place the bottom elastic under your ears and place the top of the mask just under the bridge of your nose. Finally, check that the ffp2 mask fits snugly around your face and adjust if necessary. 
Instructions for medical mask
As with disposable and washable mouth masks, it is important to avoid touching the outside of an FFP2 medical mask. This is because the outside of FFP2 medical masks can be contaminated with viruses and other germs when worn. When you touch the outside of the FFP2 mask, these germs end up on your hands, which can then infect you. 
Can I re-use an FFP2 mask?
Medical FFP2 masks are intended for single use and therefore cannot be washed. When you are finished wearing your FFP2 mask, take it off by grasping the FFP2 mask and pulling the rubber bands over your head. Then dispose of the mask in the waste bin and immediately disinfect your hands with disinfectant hand gel or soap and water. 
Benefits of buying an FFP2 mask at mondkapjes.nl
Buying an FFP2 mask is easy in this webshop. Here you can buy your medical FFP2 masks online, and they will usually be delivered to your home the next day.