KN95 - FFP2 Personal Protective Mask White | Duwei | 20-Pack
High quality certified FFP2 masks! 5 layer facemasks with optimal protection for the wearer and surroundings. Comfortable fit and fine ear loops. They have a filter capacity of at least 95%. FFP2 masks fit completely to the face and guarantee comfortable breathing. Certified 
KN95 is the Chinese standard that indicates the quality of the mask material. Internationally, the KN95 certification is recognised as the equivalent of the perhaps better known FFP2 standard. The lower limit of the minimum permissible filtration percentage in the KN95 class is even slightly higher than in the European FFP2 class. Face masks complying with this standard have a filtration 95% or more for particles larger than 0.3 micron. KN95 masks offer effective protection against the spread of viruses such as COVID-19/coronavirus.

The Chinese GB 2626-2006 standard (succeeded by the GB 2626-2019 standard) for the KN95, KP95 (FFP2) and KN100, KP100 (FFP3) nasal masks are equivalent to EN 149:2001+A1:2009;
The Chinese GB 2626-2006 standard (succeeded by the GB 2626-2019 standard) for the KN95 nasal mask is also equivalent to NEN-EN 14683:2019 when the KN95 mask is marketed as a surgical mask.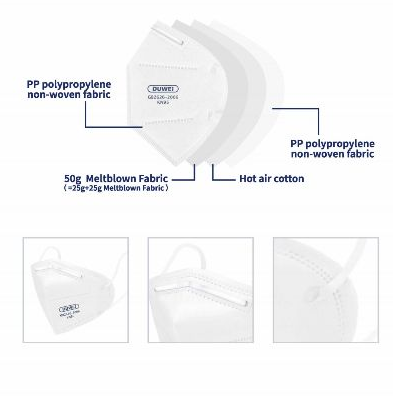 Why KN95 or FFP2 masks?
Due to the higher risk of infection from mutations of the Corona virus (including the British variant), FFP2 masks are increasingly recommended. These masks protect the wearer and are therefore classified as Personal Protective Equipment (PPE). The disadvantage is that they do not breathe as easily as surgical masks, although users may find the larger space between their lips and the mask more pleasant. The better edge seal also makes the mask more suitable for spectacle wearers.
Due to air leakage at the edges of the FFP2 mask, the fit is important. It also determines the wearing comfort. If the ear loops are too loose, edge leakage will occur and the mask will not work properly. If the mask is too tight, it is uncomfortable to wear for long periods. These masks have a tight fit and are comfortable due to the silk-like non-woven lining and nose pad.